my mom flipped when she found out that i am going to hong kong. she crowed, "are you out of your mind?!" i accepted her reaction not only because she's my mother but because of some things she associates her life with china (technically hong kong is still chinese territory and is still under "one china policy"). first was her friend's brother being stabbed to death by a crazed chinese national at tiananmen square more than a year ago and second was she and my aunts were unwanted children by our chinese grand parents. the former added more shock to her reasons of me not going to china because of someone's death. in fact, even my friends who have been to hong kong and some parts of the chinese territory have been sending me their warnings of gangsters roaming the streets at night. but then again, i said to myself which i also told her, "people die even in their own homes" we just don't know when. and when that time comes, there's nothing we can do but say hello to the grim reaper.
while the latter, i believe, has more impact since my mom's childhood consisted a large percentage of her life not to be forgotten in an instant as it has become a bitter part of her. right after high school, she fled to manila to work and study college in hopes that when she becomes a stable woman, she would raise her children the way filipinos would -- more rights to daughters. and true enough, she did but of course she still has the "chinese matriarch" complex in her. unlike some filipinos with chinese heritage (it is not politically correct to use "filipino-chinese" for everyone's information), she was not vocal about being "chinese". i wouldn't know that we had chinese blood until i asked her after people's incessant questioning if i am one because of my facial features. perhaps this almost unspoken heritage we have is what compels me to go to china. i am a frequent visitor of binondo but china, i believe, is definitely different and indeed, it is.
very busy at hong kong
my hong kong trip merely consisted of errands with a few time for myself. no disneyland, no extravagant shopping, no night markets. the original plan was just hong kong but since the news broke in our online community that i will be going to hong kong, i was messaged by one of my friends, welkin, a day before my flight to cross over to macau so i could meet his chinese wife, pauline. but our messages did not convince me yet to cross over because what i had in mind was to finish all the errands in hong kong before i go to macau.
then came saturday, i had my shift changed so i could catch the earliest flight to hong kong. however, as expected from carriers flying from naia 3, my flight was delayed. i arrived hong kong international airport at 8:00 and took the a21 bus to tsim sha tsui where my hostel at chungking mansions was located. the hostel attendant told me that their place is easiest to find if i rode the bus as the establishment is just a few steps away from the bus stop. after an hour, i hopped out of the bus and looked for 44 nathan road only to circle the 34 to 60 nathan road loop. pissed off at the heat of the sun and my phone battery dying on me before the agps could track the location of my hostel via google maps, i gave up interpreting the map and asked some people. a good old security guard took his time off away from his post to show me where chung king mansions is. the building has a good facade but inside, it's not at all a mansion. the place is a bit sleaze and is comparable to the buildings at quiapo with electronic stalls all over but with indians, the "bumbay", as the store owners and not chinese. of course, this is what you get from being a cheapskate. when i entered the place, i hid my camera out of fear that i might get robbed. as i entered the elevator waiting for its doors to open at 10th floor, i was having grotesque imageries of what my 2 days of stay in the hostel would be -- toilet bowl malfunction, smelly bed sheets, flying cockroaches -- a lady's nightmare. a place where a woman dare not experience for an overnight accommodation. the icing on the cake is, with all my traveling in the most remote parts of the philippines, i never expected to have these thoughts! i guess, i still have that inner lady in me. ergo, i am not as hardcore as what people think i am.
and there goes 10th floor, i saw a lady who looks like a filipina holding a pail of beddings. i asked for the name of the hostel in filipino and i guessed it right that she is a filipina. she showed me around the hostel and my bad thoughts of the place went away. the rooms are decent for long time rental if one wishes to stay in hong kong for months or even years. however, you just have to endure the not so pleasant journey to the 10th floor. since check in time is still at 12:30, i left my stuff at the counter and had my lunch at the indian stalls at the ground floor where i had roti and spicy spinach chicken with free milk tea for only 40 hkd. the servings were large enough for two meals and i was already full after eating just half of my meal. after lunch, i bought a sim card so i could call some friends and send sms as i have disabled my line's roaming capabilities out of fear that my next bill will balloon to a crazy amount. that's what most of my office mates' common mistakes when they travel abroad and it's all because of facebook geo tagging in status messages and instagram when a little bit of waiting to arrive home or hit the nearest free wifi wouldn't hurt to update friends and relatives. so yeah, i am guilty about the geo tagging part but that's something i rarely do. i geo tagged myself so that my sister and cousins can track my location since i pissed off my mom by pushing through with this trip.
very busy tsim sha tsui
later, i went back to the hostel to call dr co, one of my friends who lived before in binondo. before i was told that he's been residing in mongkok but threading that place alone is not a pretty good idea. good thing that i called him first as he said that he's not in mongkok anymore. i asked the attendant how to go to his place and was given directions with taking the mtr as the fastest route. i went to the subway and bought an octopus card for 150 hkd. the octopus card is one's access to all public transportation in hong kong as you can use it both in buses and trains, which makes commuting stress free and convenient. if our government would centralize all public transport in the country to be as systematic as hong kong's, there would be less traffic. buses and cars can run at 60kph on "rush hour" as oppose to rush hours here when bumpers hit bumpers.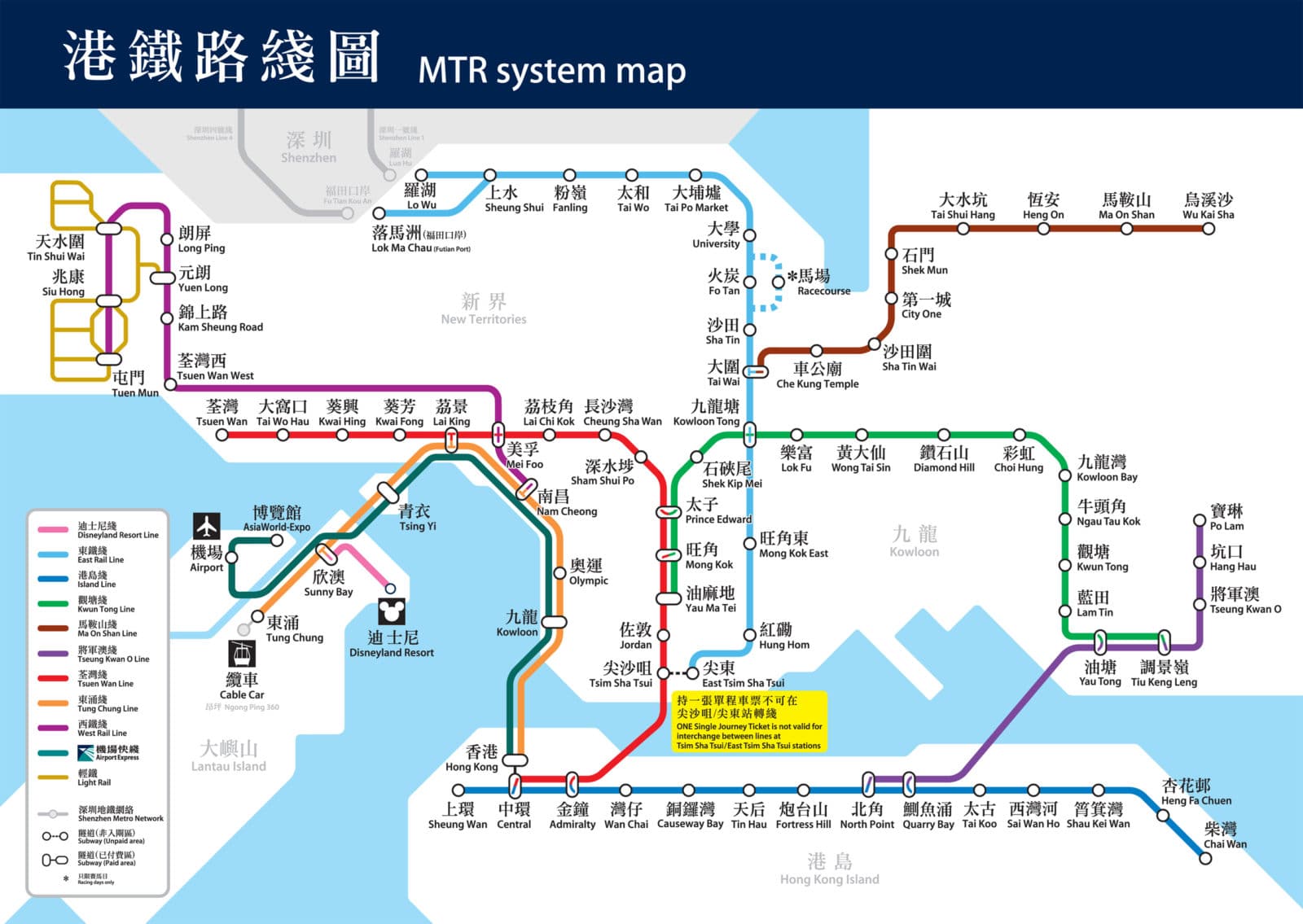 mtr map
orange lines
tung chung station
only a few milk tea establishments can be found here because milk tea is offered as a free drink in most eating establishments in hong kong.
so going back, i took the orange lines to lai king station where i boarded the yellow lines to tung chung. the moment i arrived at tung chung, dr co's wife, eva, called me to let me know that his husband will pick me up after an hour and that we'll have dinner in the evening after his clinic closes. since an hour is log enought, i walked and found myself in a fountain park near the train station where i took photos of people enjoying the afternoon. i settled myself in a bench near the fountain and calmed down after a long trip. a few moments of urban photography, i found a brand new book right beside me, which is strange because i did not see the book before and i know that no one was sitting beside me. the book is a novel published in mandarin and perhaps a good read while taking my mandarin certification classes. i told myself that if no one claims it before dr co picks me up, it's mine. as a person who believes in signs, taking home the book means that it was meant for me -- that if i read the book, it will teach me lessons that will change my life. i will post a book review about it in a few months after i read other books in my queue.
the only photo of myself in the entire trip
dr co came in an hour as told by his wife. he has changed a lot and had more grey hair compared to what he looked like when he was still in manila. i bought a small token for his family which he gladly accepted. dr co is a man of few words, not because he is not that fluent in filipino or in mandarin but he's just a very reserved person only talking when he needs to. after a few greetings, we proceeded to the bus station and rode bus 38 to his clinic. at the bus, we did some catching up. he asked me when are our other friends coming to visit him here in hong kong but i cannot give him a definite date. instead, i told him that we are still planning it yet perhaps on 2013 after the entire group's trip to xiamen. then he told me of his life in hong kong and how he started his clinic in mongkok and finally moved to tung chung which is closest to his home. before we went to his clinic, he toured me a bit in lantau. he told me that the place where he stationed his clinic is where most filipino ofws hang out in the afternoon. if we only had enough time, he wanted me to ride the gondolas to buddha mountain, which is a famous tourist attraction in lantau. i told him that i'll go back some time in august or july to visit other places. since he took a few minutes of his time from work, he sent me to the library to hang out a bit to read books and surf the net. i hanged out until closing time when he also picked me up to meet his wife at the his clinic.
i rented a pc for 30 minutes at the lantau community library. i tried typing in facebook and it says that the server has blocked the address perhaps because it's a library to begin with. i tried google and was able to access it. no chinese cyber propaganda in this place. perhaps it's just in mainland china where facebook and google is banned.
dr co was known in binondo as an acupuncturist and a bone setter. he learned his skills from his father when he was still young. i am a student of his student here in manila; thus, my trip to hong kong.
dr co only had a small space as a clinic but a lot of people have been coming for his services. they are mostly patients wanting to be treated for sprains and other joint problems. while waiting for his wife, i assisted him a bit with his patients by helping him bind gauzes and handing over some tools. then i also looked at some of his documents and noticed he has a different name in hong kong. i told him that his cantonese last name is the same as my grandmother's which made him think that we could be distant relatives. but then i told him that i am not sure where in china my grandparents were from since we could all be sharing the same last names with a million chinese people. after telling him about my grand mother, he told me that he can't believe i am not pure chinese since i almost look like his friend's (also another friend but he passed away long ago) daughter. moreover, his nurse was surprised to know that i am a filipina. now i know why she keeps on talking to me in cantonese! back in tsim sha tsui, the residents there thought i'm from mainland china because of my darker complexion. perhaps if i traveled to hong kong and i was myself 5 years ago before i became a mountaineer, who was exposed to too much sunshine, i would have been mistaken as a resident with my pale color.
his wife and his youngest daughter came in later to join me for a few snacks of egg tarts, takoyaki balls, mongo sticky bread and lemon tea (ok. so that was not "few"). his wife, eva, grew up in binondo and is fluent in filipino. we had a lengthy conversation about how their life was in manila then finally migrating to hong kong because of how bad and corrupted our country's immigration is to foreigners. there have been filipino friends who were willing to help him so he could stay longer in the country but they have chosen to live in hong kong instead with his family so just not to make things complicated.
his tcm certification in chinese calligraphy
jars of medicines he created
dr co's clinic closes at 20:00. after we have packed up and closed his stall, we rode the bus to mtr and rode the train to tsing yi for dinner. we had hainan chicken, sauteed rice, crab in vermicelli noodles, and sweet and sour pork. i was supposed to leave early for the 22:00 ride to macau at tsim sha tsui as an original plan but with the lengthy conversation and the bonding i had with the co family, i texted welkin that i'll catch the earliest ferry ride to macau instead.
i only have a few food photos because i prefer eating my food first before taking photos of it.
as predicted by welkin, chinese dinners take a while to finish but i did not regret spending time with them for that long since it will take a long time for me to go back and meet them again. we left the mall at closing time at 23:00, which gives me very little time to catch the last ferry ride to macau from tsim sha tsui. the co family thought they'll take me to their home to spend the night so i told them that i already had reservations at tsim sha tsui. so far, they're one of the hospitable families i have met. way too different compared to some filipinos with chinese heritage way back in our country who drew demarcations between the chinese race and the filipinos. but who's going to blame them after hundreds of years of being belittled at binondo? as the train to lai king approached, i bid them farewell and i promised them i will come back soon with some of our friends in manila and spend more time with them.
i arrived at harbour street at 23:45 missing all the ferries last trips. the port attendant told me that i could still catch the last rides to macau at sheung wan. since i'm way too tired to endure more walking and train rides, i told welkin that i'll catch the first ferry to macau in the morning. so i walked back to nathan street, back to the unpleasant chung king journey to the 10th floor, and to the reception where i was greeted by an indian receptionist in charge for night shift. i greeted him back and told him that i will head back straight to my room. as i head towards my room and opened the door, he said, "don't forget to knock." but since i'm way too tired to bother what he said, i opened the door before he could finish his sentence. and there, a caucasian man, wearing his boxer shorts. just imagine yourself almost half asleep and someone splashes ice cold water in your face including the ice. that was me. i shouted at the receptionist, "there's a half naked guy in my room!" and so there was commotion. and then i remember, i booked a hostel space and not my private room so i should not have been shocked. i knocked the door again and told the guys to let me know when they are finished. i was told that they are done so i went inside. they introduced themselves but i'm to tired to remember names. since they are leaving the entire night, the other guy said that i can have all the contents of the refrigerator for myself but refused the offer since i am too stuffed and sleepy. i bid them farewell as they left and dropped tired in my bed waiting for my phone to alarm at 5:00.