just pooped the 4000 masl mark. joke.
my name is kat and i have been traveling within and outside the philippines since 2005. i started traveling when i was in college when i started commuting on my own. my thinking back then was to explore manila by riding the jeepney on round trips. aside from jeepney rides, i also did a point-to-point mrt and lrt rides. for me, commuting in any where else in the world is something someone should experience. through commuting, you will able to see what life is from the different people you get to share a seat with whether s/he be a mugger, an old man who wants to share his wisdom, a student cramming for his/her next exam, etc. life, through other people's eyes, is boundless!
mt ugo adventure with blockmates
one day, after seeing one of my blockmates' awesome outdoor pictures, i was amazed! they told me stories of real life adventures which i've never read in books or played in games. it was their own! and i knew back then they had fun because of how their faces told the stories more than what their words can tell. however, i couldn't join my blockmates in their outdoor expeditions since my focus was to finish college. it was during my first job in 2006 when i started the world of mountaineering and scuba diving. i was lucky enough to have a mountaineer and a scuba diver as my first boss, who told me stories about his himalayas and alpine expeditions as well as his below sea level adventures. when i got my first salary, i called my blockmates. my adventure began. as for diving, it was a company sport and i got my first 2 licenses for free.
i am a highly introverted person with a very high introversion rate (i was at 98% last 2003) that i was even called for counseling for further assessment to check whether i was suicidal. but one professor dispelled the belief and saw it, together with my also very high intuition, as a gift rather than a psychological disorder. way back college, i zone out to my imaginary worlds, read a book not related to class (mostly fantasy), or sleep. if i'm outside class, i travel around manila as stated above or i stay at home to read books.
when i was on day shift, i got to have the luxury of traveling on full weekends and leaving manila on a friday night. i met a lot of people by joining open climbs organized by various mountaineering groups. as an introverted person, joining a group of people was my "breaking in" since i wasn't used to climbing without my friends. things changed when in 2008, i switched to a different work where i have to report on night shift. the drastic change made lose a lot of hiking buddies since we can't compromise on a date. yet, since i love traveling, i have no other choice but to organize trips on my own. bottomline, solo hiking was a choice and i face it's dangers in a calculated way because i can't let go of my passion for travel.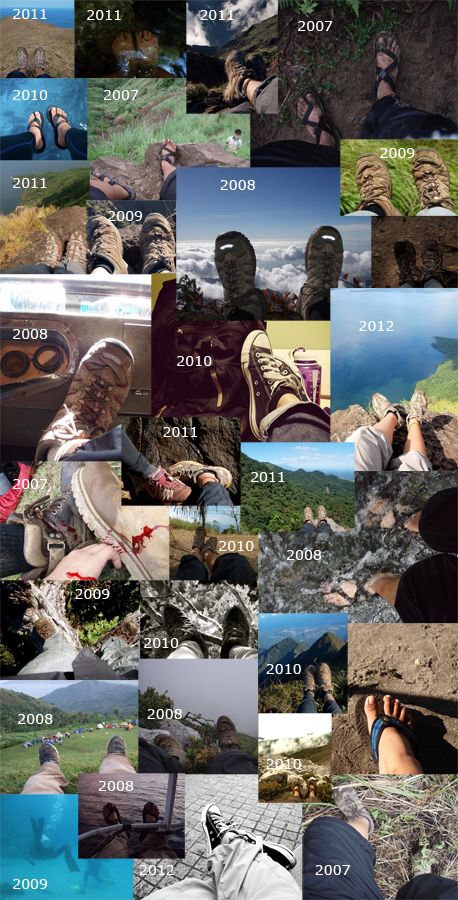 happy places, happy feet collab!
also in 2007, i got my first digicam, which sparked my love for photography. unlike others who often take pictures of themselves during their travels, i always take pictures of my feet. for some unknown reason, i just love them! a friend of mine, who is an expert in astrology, told me that my feetish is caused by my moon sign, pisces. whatever the reason may be, i'd still take pictures of my feet.
in line with my feetish, i did a collaboration at

hitrecord

. what you have to do is just post photos of your feet (or foot), and upload it in my page as a collab entry. but before you post a contribution, sign up an account with hitrecord and subscribe to my page,

blehblehbleh

(no i am not earning money for this collab as this is simply made just for fun). the name of the collab is

happy places, happy feet

.
other stuff about me
i graduated with a bachelor's degree in philosophy with literature as my minor degree last 2006. i am currently taking up an mba in strategic planning online. if time permits, on the first quarter of 2014, i plan to take a crash course in visual media to enhance my photography skills.
i am a full-time hr advisor working at night and a part-time commercial photographer and promotional scriptwriter on weekends or whenever i am available to take in an extra work. all jobs fund my wanderlust.
aside from traveling, i love reading, writing flash fiction (which i will post under "thoughts" but you may see more of them at my hitrecord page), listening to music, painting, and martial arts.
where i've been in ph
the philippines consist of 7107 islands and i have not yet visited all of them! i only have a few posts of my travels here in my blog when i started in 2012. since my past travels are worth reminiscing, i have created a "regressions" portion in my blog. for the mean time, here's my travel map since 2007.
My Lakbayan grade is B-!
How much of the Philippines have you visited? Find out at Lakbayan!
Created by Eugene Villar.
equipment


herein below are my main equipments per activity
i sold a lot of stuff already thinking i would not be able to go back to mountaineering after my back injury

1. bag: tnf prophet 60L, i also have another 20L tnf but i forget the model
3. stove: msr whisperlite
4. hydration: 3L camalbak, 2 1L nalgenes, 6L msr
5. tent: tnf which i am currently leasing
6. cookset: i have an msr as well. i forget the model lolololo
8. jacket: are mostly columbia
9. other stuff are generic items from conquer
i don't have complete stuff yet despite my years of diving. looking forward to getting a dive computer soon.

1. regulator: sherwood magnum
2. bcd: oms 60lb wing + aluminum backplate (will switch to light monkey soon)
3. fins: oms slipstream fins
when diving, i just rent a camera but i hope to get one. for other photos:

1. olympus e-420
2. 14-42mm with (stuck) cpl filter

i shoot on jpeg mode for travel due to space limitations on my laptop. i use adobe photoshop cs2 to add watermarks and edit photos if i feel like editing. my main operating system is mac.
i have a facebook account (go search me up!) i only have two flickr accounts and a hitrecord artist page. if you wish to contact me for travel invites, please do not hesitate to post a comment in any of my pages with your contact information. if i am available, i am more than willing to join you.

twitter

@selfdisp_kat_o
if you to know more about the places i have visited or you want to talk about business, you can reach me via my email at

selfdisplacement [at] gmail [dot] com.